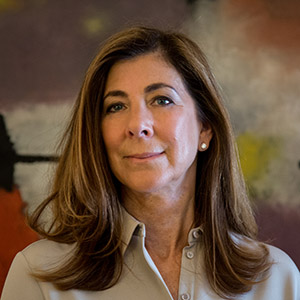 Robbie Karp is a Social Impact advisor and co-founder of Karp Randel, a consultancy designed to help corporations, foundations and individuals achieve their business and personal goals while making a positive impact on society.
Robbie has decades of experience in the corporate, philanthropic and social impact arenas.   She was President of the Perelman Family Foundation, which focuses on women's health, education and the arts. Prior to that, Robbie was an executive at Liz Claiborne Inc. (now Kate Spade & Company), where she served as General Counsel and was responsible for Corporate Affairs, including Corporate Communications, Social Responsibility initiatives and Labor Relations. She also led the company's business development function, including divestitures, mergers and acquisitions, and strategic alliances and partnerships. In this role, Robbie successfully helped sell or reposition more than 15 brands during a critical period for the organization. She also sat on the board of the Liz Claiborne Foundation for 20 years (now Kate Spade & Company Foundation), which focused on economic development for underserved women, with a focus on survivors of domestic violence. Robbie began her professional career as a lawyer at Kramer, Levin et al, a Manhattan Law firm.
Robbie currently serves on the executive committee and is immediate past chair of the board of Educational Alliance, an established settlement house serving the needs of the multi-generational lower Manhattan population by providing direct services around education, jobs, and overall well-being. She is also a director of Human Rights First, an independent advocacy organization that works to ensure that the U.S. is a global leader in human rights, where she sits on the executive board. Additionally, Robbie is on the advisory board to the Chazen Fund to Address Domestic Violence and was formerly a trustee of Stephen Wise Free Synagogue, a leading reform synagogue in Manhattan.
Throughout her career, Robbie has served on a number of other nonprofit legal and human rights boards and task forces, including Co-Chairing President Clinton's Apparel Industry Partnership (AIP), a coalition of consumer companies, human rights organizations, labor rights and consumer groups formed by the President to help improve global working conditions. The AIP created an historic Code of Conduct and independent monitoring system that is now enforced through the Fair Labor Association (FLA), of which Robbie was a founding board member.
Robbie was profiled in Crain's New York Business "40 under 40" and was selected and served as a David Rockefeller Fellow, a partnership program to develop better corporate citizens through immersion in civic issues. She also served for many years on the board of Business for Social Responsibility.
Robbie graduated from SUNY Binghamton, majoring in environmental sciences and from Hofstra University Law School, where she served as the Articles Editor of the Law Review.
Robbie has two children and resides in Manhattan with her husband, Brad Karp.
"While it's not always easy, there is a path to aligning financial goals and social impact: explore options and keep focused."